Check out the video —   Beautiful!
FILAMENT ERUPTION: Solar activity is low, but not zero. During the early hours of Feb. 13th, a magnetic filament erupted near the sun's SW limb. NASA's Solar Dynamics Observatory recorded the blast (click to set the scene in motion):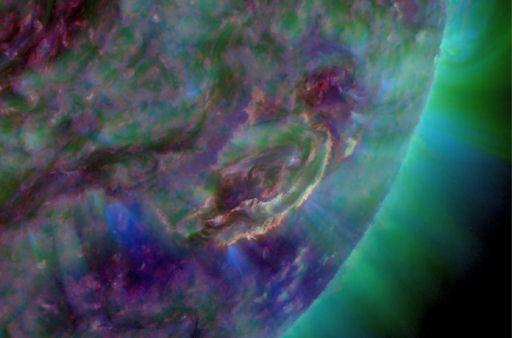 The extreme UV movie shows the filament flinging itself into space followed by the formation of a "canyon of fire" marking the channel formerly occupied by the filament. The glowing walls of the canyon are formed in a process closely related to that of arcade loops, which appear after many solar flares.
As erupting magnetic filaments often do, this one launched a coronal mass ejection (CME) into space. NASA's STEREO-A spacecraft spotted the expanding cloud, which does not appear to be heading for Earth or any other planet.
fr/spaceweather.com